Sivananda, Vinyasa and Kundalini with Stephanie Shanti and Andrew Hunt
Come and retreat with Stephanie Shanti and Andrew Hunt to explore prana in postures, increase your energy levels, play and practice in a beautiful setting. These are both highly experienced yogis, coming together to share their knowledge across a broad range of yoga traditions.
Andrew Hunt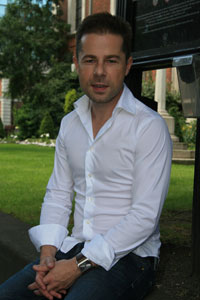 I have practiced Yoga Yoga for twenty six years and have been teaching for six. I began my practice whilst studying drama at The Webber Douglas Drama School in London. My emphasis is on breath and the meditative focus and processes of pranayama. I teach a wide asana (physical), practice which is welcoming to all levels of physical agility. I specialize in restorative, Kundalini and dynamic flow classes.
Stephanie Shanti
Stephanie Shanti has been practising yoga since she was 20 and teaching since 2000. She trained at the International Sivananda Yoga Vedanta Centre in Montreal, Canada and has taught classes to a wide variety of clients including children, families, patients in rehabilitation, the elderly and those with special needs.
She has studied many forms of yoga including Sivananda, Integral, Iyengar and Astanga and is qualified in Thai Yoga, Swedish and Indian Head massage. Her classes focus strongly on the importance of breathing through the yoga poses to cleanse toxins from muscles and internal organs whilst maintaining good alignment and control to reduce the risk of injury and stress to the body.
Relaxation is integral to her approach both during the poses and at the end of the practice. The result is increased motivation and stamina, improved internal and external muscle tone and acceptance of the body as it is with an overwhelming sense of inner peace and strength.
In 2017 she is also launching her yoga teacher training and in 2015 she completed Healing Space Yoga for people living with cancer training.