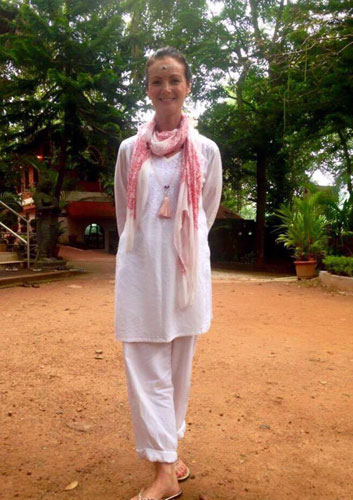 This is Michelle's second week at Shanticentre in 2019
Michelle trained at the British School of Yoga, where she qualified as a Hatha yoga teacher in 2009. In 2014 she travelled to India where she qualified as a Sivananda yoga teacher.
Michelle's teaching style is traditional Sivananda. A classical and holistic approach to Hatha yoga.
"My teaching was born out of my love for yoga and the beautiful and profound personal journey I found myself on. I simply wanted to keep learning and keep sharing the knowledge with as many people as I could. I enjoy teaching people of all ages and abilities as much as I love the challenges that I continue to discover in my own personal practice. It is my hope that through my classes people will also experience the deep joy, serenity and healing that yoga has offered for me"
"Health is wealth, peace of mind is happiness, yoga shows the way." Swami Vishnudevananda

"Serve, Love, Give, Purify, Meditate, Realize." Swami Sivananda